Now that IYL5 is down to the final match, I feel the need to kick off another tournament. I was playing around over here with various parameters of tournament design, and came up with one that I'm hoping will encourage play in matchups that aren't seen very often in standard tournament settings. So, without further ado, I'd like to introduce…
Lum's Long Odds
Lum's Long Odds is a Swiss-style points-based tournament that awards points each game based on the expected matchup imbalance of the matchup being played.
Tournament Format and Rules
Scoring: The tournament results will be decided based on the total score across all games played by each player. Each game will award a number of points equal to the opponent's character's expected chance of winning (out of 10). For instance, from the historical matchup chart, Lum has a 6-4 matchup against Grave. So, if Lum wins the match, he would be awarded 4 points, and if Grave wins the matchup, he would be awarded 6 points.
The points awarded for each matchup combination is based on the Historical Matchup Chart (as maintained by @mysticjuicer), frozen today (at tournament announcement), and rounded to the nearest 0.5.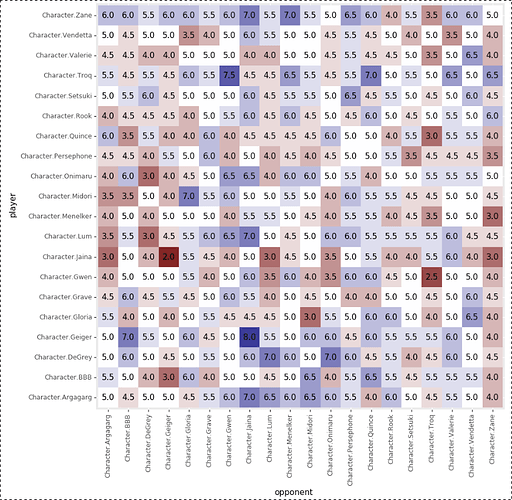 N.B. Read this chart with your character on the left and your opponent on the bottom to find the historical win chance. Read this chart with winning character on the bottom and the losing character on the left to find the number of points won.
Character select: First game of a set is double-blind, thereafter the loser of each game may switch
Format: 8-week Swiss. I will be arranging the games manually (unless someone finds an automatic Swiss-bracket maker that can handle variable numbers of points per game). Starting from the highest ranked player, I'll match them with the next-highest ranked player that they have not yet played.
Timer: Medium
Set Length: Exactly 5 Games
Tie-breaking: In the case of a tie, the leader from the previous week will remain In the lead.
Scheduling: You will have one week to schedule and complete each match, deadline is Monday evening Eastern time. I will discuss who loses in a situation where a match fails to occur with my co-TOs.
Double KOs: No wins or losses awarded - replay the same match-up
Server Crash: No wins or losses awarded - replay the same match-up
Reporting: Either the victor or the vanquished (or both) should post results in this thread.
Sportsmanship: Be nice!
Forfeits: If your opponent no-shows, you will be awarded the median number of points that were awarded to the rest of the set-winning tournament players that week (that is, those players who scored the most points during their 5 game set). If you no-show two weeks in a row (or too many times overall), then you will be disqualified from the rest of the tournament.
Schedule: I'd like to kick this off in early November.
---
Scheduling Tip 1: WorldTimeBuddy.com is an excellent resource for scheduling matches across timezones.
Scheduling Tip 2: If you are posting to the scheduling conversation first, provide a list of dates and times when you are available to play. If you are posting to the scheduling conversation second, pick a specific start time and date for your match from those provided by your opponent. If none work for you, propose specific alternatives.
---
Entrants (24)
Full List

vengefulpickle
Castanietzsche
mysticjuicer
GutterOwl
ArthurWynne
flagrantangles
MysticDeadman
FaceOnMars
Hobusu
variable
Ivan
mastrblastr
snoc
neigutten
Niijima-san
SouthpawHare
hamvvar
thehug0naut
fusxfaranto
UTRALAW
CKR
MR75
ThreeHeadedMonkey
Leontes
---
###Suggestions?
This is the first time this format has been run, and only the second tournament that I've run, so if you have suggestions/feedback/recommendations about the format or rules, I'd love to hear them.