A few people were interested in how well Codex works with unofficial sleeves, and since I've had my copies for a few days I can give some concrete updates, as well as my other thoughts on storing/carrying all these great components.
I ordered two Deluxe sets, with the intent of being able to provide cards for my friends to play. I've been carrying a print and play set (without sleeves) around in my laptop bag/briefcase for the last few months, because opportunities to actually play have been sporadic and somewhat unpredictable. My goal has been to convert one of the sets into a relatively portable form to fit in the bag, so there will be a bunch of extra notes around that.
To be clear, I think the whole Deluxe set is amazing and a fantastic value, and I'm super pleased. I'll note anything I would have found relevant if someone were explaining what everything was.
---
First, my general thoughts about the Deluxe set components:
I think the box is a very attractive design, as boxes go.
It's very short/flat relative to its width and length, which makes carrying it around kind of awkward.
The Deluxe mats look and feel great. They're a big part of the reason I got two sets. The text/images don't have the crispness of the print on paper, but that's to be expected with mouse mat material.
I haven't tried actually playing with the 3 extra player boards. They look like they'll resist staying quite as flat as one would hope, but I'm sure they'll do in a pinch. They feel like basic card stock, not laminated or anything. They're notably not thick boards like the ones in the starter or core sets. They won't fit in a 8.5x11 page cover sheet like the print/play starter sheets, which was a neat carry method for my print and play set.
The marker tokens (runes) are great. I love that the damage/level markers are double-sided for the 1s and 3s. I also think the larger 2 gold pieces are great. There is just enough gold pieces for the 20/person maximum (I like separating out the pieces so the "you can never have more than 20 gold" rule is easily clear, even if someone new is playing and doing something weird). All in all, the tokens seem aimed at having enough for two people, so if you're playing with more, be prepared to have substitutes.
I'm less fond of the double-sided +/- runes, just because I'd want more per set. Running out probably won't actually be an issue in play without the +1/+1 rune exploit loops. I also kind of wish there were specific time runes, or specific "this hero is max level" runes. I also use (d6) dice for building health (I like the clarity of this method) and I know some people prefer dice for damage/level runes for heroes and units. As long as everyone is clear what means what, people can and will do what they want (I certainly did).
I prefer using dice to the dial for base health. I played a couple of games with just the official components, though, and the dial is super helpful if you don't have dice. We flipped a damage token to see who went first, but the dials spin freely enough that it could be an option, too.
Fitting sleeved sets in all the binders makes the binders sort of puff up and makes it harder to get the box lid totally down again. This affected one of my sets more than the other, so your mileage may vary slightly with the binders.
The runes all sit in little designated spots and are easily retrieved due to the curved nature of the spots. It's really usable. The combination of the binders puffing up and a slightly loose lid and the general awkwardness of the box makes for a likely scenario where they fall out because the box was put on its side.
All the non-Codex cards, even sleeved, don't take up all that much space in the allotted area on the box, but if you sleeve everything you definitely need to put the Codex cards in your binders.
I ended up breaking that section into two horizontal spaces, and I'm keeping some spare sleeves/packaging in between the two sections. It actually works really well.
Box lid floating

You can see the box lid not sitting down all the way. It's still quite secure.
Components in box

Here you can see the black binder is sitting above the designed space for it (it's not sitting on the edge of that space, just the blue binder). You can also see how I arranged the starter/token/etc. cards horizontally, with the spacer cardboard in the middle (there are a bunch of spare sleeves next to the spacer). The top few mini cards want to slide out of their space if you sleeve them, but you can squish them down. You can also see some of the little markers have migrated to other sections after a car ride where it was mostly flat (I can't fit it flat in my tiny trunk; it was sitting in the front passenger seat/footwell).
---
Thoughts on the binders:
They feel great in use. The cut pockets are great, they look nice, etc. The sides are rigid to protect the cards, which makes the binders a lot thicker than a 3-prong poly folder. One of my binders (out of 12) has bad seals along the top row of pockets on its pages, and another has weird ripples in the clear plastic on the back, so I plan on contacting ShipNaked about these to seek replacements (for at least the one that isn't sealed). Both of them were in the same Deluxe set.
The sheets are sealed in; they're not removable/replaceable in any way.
Each binder has three double-sided pages, so the middle page will have two cards on each side (holding a total of 36 across both sides). This is not a problem, thankfully. Some 18-pocket sheets I've tried for poly binders don't handle this well, but the official binders handle it just fine.
Hopefully they hold up well over time, but if school was any indication, being carried around in bags is a great way to wear out binders. They'll probably do much better in the Deluxe box.
I tested a few different types of sleeves for the full-size cards and with the official binders:
KMC Hyper Mat sleeves fit fine for both card and binder (this is what I'm using). I'm using clear mattes, and for the double-sided cards (a few tokens and the workers) it works fine, and the codex/hero/token/map backs are all clearly distinguishable.
KMC Perfect Fit sleeves also fit fine, mostly. As has been my (relatively limited) experience with the Perfect Fit sleeves, sometimes they're tight enough to bend the cards a little, but the fit per sleeve varies just enough. So I'll just say they're on tight tolerances. There's no issues with fitting them in the binder (being intended to go within traditional sleeves, this is not a surprise).
Double-sleeving the Perfect Fits within the Hyper Mats and then putting them in the binder is fine for the card, but the binder gets noticeably tight. I wouldn't recommend it, and it's probably not a good use of money anyway.
Some brand new Dragon Shield Matte Black sleeves I picked up fit both the cards/binders fine as well, and have a little more spare material at the top of the card as is typical for these sleeves.
My old set of Purple Dragon Shield sleeves fits the cards fine, and is probably the second tightest fit in the binder (after double-sleeved cards).
I did not get the official sleeves, so I can't offer an opinion on them.
So, in short, you should be fine using whatever (single) sleeves your normally prefer with the cards and binders. This is a really important thing that they got right, since a lot of sleeves don't fit well in various types of binder pages. I'm super happy with the official binders for play, but the big trade-off is that they're relatively thick for just throwing a bunch in my laptop bag.
For the mini cards (spec choices and add-on buildings):
I only tried some Mayday Mini Chimera Game Sleeves (these were the non-premium type, they come in a pack of 100 with a red cover), which are officially 43mm x 65mm. They're a little long (the 65mm bit) but fit perfectly on the sides. This form-factor isn't available from a lot of the manufacturers, and my local store didn't carry it so I ordered them from Amazon (which delayed this particular post).
The Premium ones say they're 41mm x 63 mm, which is weird because that's the size of the Mini-USA ones. I haven't tried them, but suspect that's just not going to fit, given the fairly perfect fit of the 43mm non-premiums.
I was worried I'd have to get the Mini Euro boardgame sleeves (officially 45mm x 68mm), which would be even longer, but didn't end up trying them.
When all stacked up, they puff up a little and one or two wants to float out of the designated holding area in the deluxe box, but it's not a big deal.
If anyone doesn't like sleeves, by all means skip them, (especially for the mini cards which aren't handled much anyway).
[details=Card fit in different sleeves]
Top row is (left to right): KMC Hyper Mat Clear, KMC perfect fit (one of the fairly tight ones, you can see the card bending a little)
Middle row: (new) Dragon Shield Matte Black, (old) Dragon Shield Purple
Bottom row: Ultra Pro black (bad hologram placement), Mayday Mini Chimera Standard (non-premium) sleeve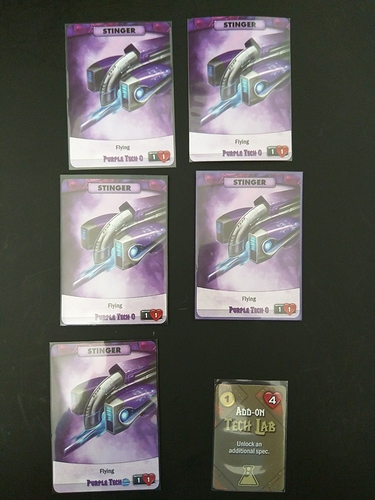 [/details]
---
Now, on to the portability challenge: How do I get an entire deluxe set into my briefcase, while still fitting my laptop, a tablet, and a laptop power cord?
Binders:
I'm not going to try to fit six separate official Codex binders in my bag. I'm concerned the wear on the official binders would make me sad, so I don't plan on using them in my travel set.
I want to have all 20 specs with me (480 cards for the binders + workers, heroes, starter decks, tokens, etc.)
There aren't a lot of binders that will carry 480 cards; notably the ones that do tend to be "playset" binders with 4x pockets across.
I ended up getting an Ultra Pro 4-Up Playset PRO-Binder, which has a terrible name, and it works pretty well. It's sort of like two 2x4 binders attached to each other and then folded together. Because it actually has 480 separate pockets, it's not intended to hold cards doubled up, although that works fine. To spread them out evenly, I avoided putting cards on both sides of any given page, so none of the pages get overloaded. I made it so each side has three colors and one of the neutral factions. Each spec is visible all at once, and a turn of the pages takes you two the next spec.
The 4-Up would actually be pretty playable as-is for someone who knew their cards really well. The cards slide in or out with a light touch, but won't move accidentally. I definitely prefer the official recommendation that lets you see all the spells/Tech I options at once, though.
I'll probably throw a cheap poly binder or two (with some 9-pocket sleeves) into the bag for actually playing. Without cards, they won't add much bulk, and I won't care if they get destroyed from sitting in the bag.
4-Up

Cards are sleeved in KMC Hyper Mats, 2x per slot
Other cards (heroes, workers, starters, tokens, maps, mini cards):
Ultimate Guard Twin Flip'n'Tray Xenoskin Deck Case 200+
That's a lot of name, and it's a little pricy. It works great, though. It holds all of the rest of the Deluxe set cards (in sleeves) and the runes. Really, all of them. I put the runes in a plastic bag and tucked them in the middle tray. The other cards were split across the two deck holders, and the mini cards stuck in at the edges. It's a great fit; neither too tight nor loose.
It doesn't fit the color dividers that come with the Deluxe set.
Cards and runes
The mats:
I'm not sure how I'm going to carry the Deluxe mats. Tubes are probably not going to fit well in my bag. I'm thinking maybe an Inked playmat bag? Does anyone have good recommendations?
The extra player mats are just a little long (folded into quarters, as they come) to fit safely tucked in poly binder, so I'm not sure if these are a good option. I might use the card stock printouts I made for the starters for extra travel mats (see print and play set description below)
Unofficial card storage for my print and play set:
I've been carrying the print/play set in some super cheap (paper) 3-prong folders with BMC 9-pocket top-loading sheets. 9-pocket is mildly annoying, because you have to grab cards from the back of the page when you're looking at the left page when using the default arrangement. I haven't found pages I like a ton for the real cards in sleeves, so don't sweat this too much. If you're looking to save money with the real cards and are buying everything piecemeal, just use and take care of the official binders in the Core set. If you're doing print and play, you may have to do some more testing to be happy.
I kept the 8.5x11 starter boards printed on card stock in just a sheet cover within the folder with the neutral specs. It worked really well, and I might do this if I can't find a way to get a full mat in my briefcase.
I just found some "Comix" brand poly folders that happen to come in a set of six with exactly the Codex colors (black/blue/green/red/purple/white) on Amazon for $10. It's surprisingly difficult to find all six colors in one brand (and I wish it had brown for neutral), so this is a heck of an option.
All the non-binder cards fit in a single Ultra Pro PRO 100+ deck box (no sleeves). That's true of my print/play set, and probably true of the real cards, too.
Playing with printed runes with the print and play was unpleasant. They were too thin, all had the same plain white backs, etc. I've been using a dice bag for all the runes/dice, which (before the early Codex shipment), I gradually upgraded the runes while waiting for the real sets. I keep them all in a dice bag, with the different rune types in separate little zip bags. These include:
Some miniature plastic poker chips in red and white, sold in little tubes. I got them to use red for 2, white for 1, same as Pandante (but much smaller). They're kind of neat for being stackable, and I can easily cover 5 players with 1 tube of each color.
I was looking for a fantasy coin substitute I might like more, but before I got around to it, the real game shipped. I'll probably stick with the official gold.
Chessex set of 36 small d6 dice
Some beautiful acrylic damage markers from Team Covenant (intended for a different game, but works great here). The 1s and 3s are different sizes/colors, so they're easily distinguished at a glance. They came pre-painted.
Some acrylic hero level markers (we were also using them for corpse runes, or whatever non-heroes add up that need counting) from Team Covenent, again for that other game. The 1s and 3s are again obvious at a glance. They came pre-painted.
Some yellow hero max band markers, also from Team Covenant, designed for a second different game. I'm not 100% satisfied with the aesthetic, but I tried thinking of a different custom image for max band that was better and didn't really find anything, so I just got these. They came pre-painted (and have an unpainted etched arrow design on the bottoms).
Some custom - and + runes from Advanced Deployment. If you dig around to find the "trinket" options, you can get these in packs of 10, which is the same size as the 1 damage tokens. I picked red/green transparent. The red acrylic is the same color as the Team Covenant 1 damage, which…I sorta wish wasn't the case, but isn't a big deal. I painted in the etchings with "White Scar Citadel Layer" paint from Games Workshop.
Some super-custom time runes from Advanced Deployment. The icon was royalty-free from gameicons.net, and I got them in the transparent purple color. As with the +/- runes, I painted in the etchings myself.
Custom runes

Official ones on top, mine on the bottom. Dice bag is from an etsy seller who no longer makes them, unfortunately.
As mentioned, I like the official runes a lot. I wouldn't encourage anyone to get all these custom pieces for the print and play (where presumably the intent is to save money, and cheaper alternatives abound). I prefer my custom ones and will keep using them (alongside the official "other" and two-step runes, and probably the gold) for two-player matches at least. It's great to have the official ones for whenever I manage to get a big group together to play all day.
Lastly, fitting it all in my laptop bag (except mats).
Briefcase

Top image has the cards and all my extra runes on the bottom of the briefcase, then the bottom image has the binder stacked on top. Laptop, tablet, and two (empty) poly covers with card pages are also inside. I could fit a couple of the extra player mats, but I'm not sure how to keep them from getting worn over time, and I'd like to find a way to bring the mouse mats.