A little while ago I made this thread about a custom character I had come up with. At the time, all I had was a design; I did not even have a name for the character! But now, I would like to introduce:
#Sun Wu-Dao
The Monkey Queen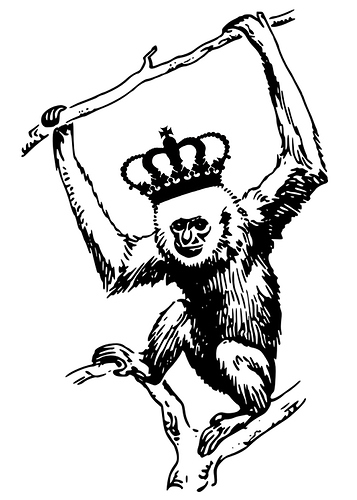 "It's finally time to lead my people into the sun!"
[details=Lore]Legend has it that thousands of years ago, the Sunstone monkeys thrived in the lush, verdant forests of Dragon Tail Vale. That is, until Sun Wu-Kong, the first monkey monarch, grievously offended the ancient dragons. In retaliation, the dragons banished the Sunstone monkeys to the mountains, where they have eked out a meager existence on an arid mountainside. Since then, the stigma of Sun Wu-Kong's mistake has hung onto them like a bad stench.
Sun Wu-Dao, the current monkey queen, is determined to restore her people to their homeland in the Vale and undo their history. Fortunately for her, Flagstone is a kingdom all too eager to discard the past. Its chancellor, Quince, could not care less about archaic stories of thousand year-old transgressions. He is much more interested in gathering allies for the coming conflicts. In exchange for the Sunstones' support, he promised to give them back the vale. Sun Wu-Dao readily agreed.
The time has finally come for the Sunstones to reclaim their rightful lands and destroy the draconian lineage that banished them to the mountains all those years ago, and Sun Wu-Dao is determined to lead them down that path.[/details]
---
I created a Print-and-Play PDF for Sun Wu-Dao's deck, in case anyone is interested in play testing the character! If you do, I would love to receive feedback and comments!
Link to Print and Play

https://www.dropbox.com/s/61nprlypci09zod/Sun%20Wu-Dao.pdf?dl=0
Let me know if there is any trouble accessing the PnP or if I made any errors on it!
---
[details=Art Asset Credits]Gibbon Vector: https://pixabay.com/p-37834/?no_redirect
Crown Vector: http://clipart-library.com/vector-crown.html
Playing Card Template: http://www.timvandevall.com/wp-content/uploads/2014/05/Playing-Card-Template.pdf[/details]