Similar to this thread I'm hoping to use this thread to explore if there is any way that Classic Black can win against Reaper White. Anyone is free to jump in and suggest alternative moves or lines. Everyone is in agreement that Reaper has the advantage here and will win in most "real" games, but this thread is to see if Reaper has a 100% line - therefore duels will not be played normally, instead Reaper will publicly duel first and then Classic can pick the best response.
Aiding us in this task is an AI I have built which is better than I am, but far from perfect. Notably, the opening is the weakest part of the bot's capabilities. When faced against the double-ghost opening suggested by @Kristoph, my bot suggests:
Rf6 d5
Rg6 Nc6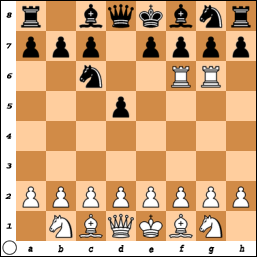 Anyone have a better suggestion for Black's first 2 moves?