Okay so not sure if these are worth porting over but It took me a long time to make all 20 character basic guides so I'm bringing them with me. Will port the other ones over later. This is just a test one and I hope it works.
Let's start with Grave Stormborne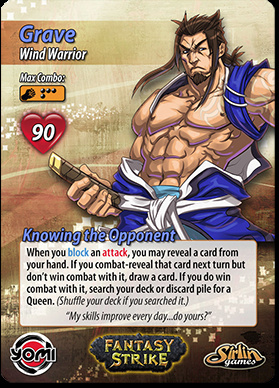 [details=Summary]Grave is Yomi's all around fighter. He isn't exceptionally strong, his combos tend to do around 20 damage at best (outside of his super attack) he isn't exceptionally fast either, both his normal attacks and his throws are average speed. He is a character that is right there in the middle, He's not falling behind in any one category but he isn't far ahead any category either. Having said all that he does have a couple of exceptional options.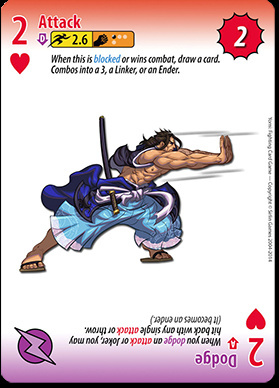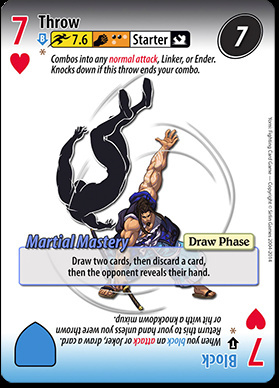 Notice how both Grave's normal attack and throw here end there speeds at .6 (the cards speed is in the Yellow box at the top left of each of these cards) this is very middle of the road stuff.
Having said all that he does have a couple of exceptional options. For starters his Dragonheart reversal is the stuff of legends.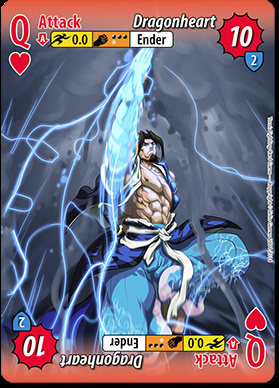 It's speed is 0.0, that's as fast as moves can get, and it does 10 damage for a single card which is solid damage efficiency. This is a really good defensive card because it will beat most other attacks in the game keeping Grave safe from a lot of scary combo starting stuff. It is also an extremely safe play for Grave to make when the opponent is KD. The only downside of the card is it's only ever going to hit for 10 damage. It won't allow you to combo into other moves. It is a low risk low reward play.
Grave's Dragonheart is also tied to his innate. If you look at his character card above you will see that Grave has the ability to potentially get more Qs then most characters would. Allowing Grave to have a bit more consistent access to his Dragonheart. His innate also allows for interesting mind games on top of the typical mind games. For example lets say Grave revealed this card: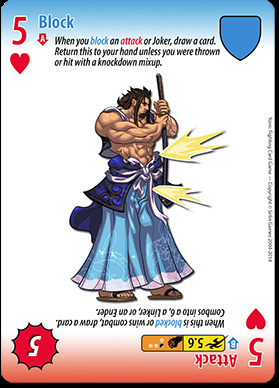 The only way for the opponent to not lose to either side of this card is by playing a block or dodge but the Grave player knows this and he can use this to his advantage and throw the opponent instead. This leads to all sorts of fun that Knowing the Opponent brings.
Grave's ace is what a lot of his play revolves around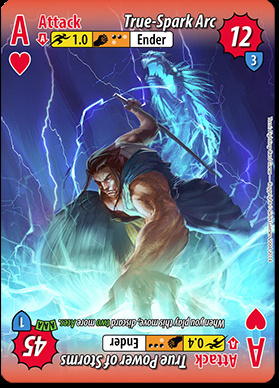 It is a very strong and versatile card. If you look at the top at True-Sparc Arc it is at the very good speed of 1.0 and it does 12 damage, that's really good stuff! It is also only 2 out of his 4 combo points(cp) which means Grave can throw and then follow up with True-Spark Arc dealing 19 damage for only 2 cards, a lot of characters wish they had that kind of efficiency.
But the bottom of this pictured ace is where a lot of Grave's scare comes from. The Dreaded True Power of Storms (TPoS). This is a move that takes three aces to be able to play it (it isn't too difficult for Grave to get three aces) but it deals 45 damage only takes 3cp and it's a speed 0.4 move!!! This move has a ton of hit confirm. Grave can try and normal attack then combo into TPoS, he ca try and dodge into it or he can just play it. The only way for the opponent to be safe from this mix up is to block/dodge which can open up Graves options and allow him to get more throw wins in.
Grave's Whirlwind attack isn't as exciting as the previous two cards but still good in certain situations.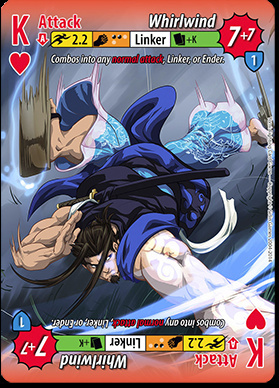 It is not bad at all when Grave has two in hand and he can get 14 damage for 2cp. Speed 2.2 is also quite handy in some mu.
Often Whirlwind will be used to fuel Grave's Mental Toughness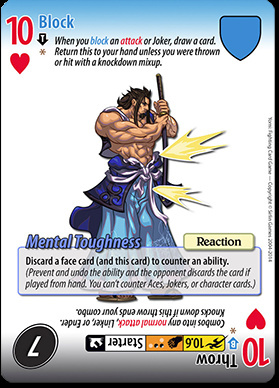 To use Mental Toughness Grave must discard it plus a face card. When he does he gets to counter an opponent's played ability (the ability can't be one that comes from their innate or aces). This allows Grave to be safe from a lot of powerful abilities and having one in hand can be comforting (as long has he has the face card to pay its cost). No one gets the best of The Wind Warrior.
Grave's Lightning Cloud attack is a very fun card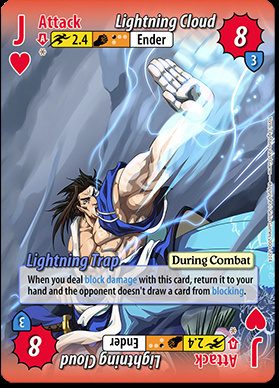 It is pretty much the standard J type card except it does 3 chip and it has the extremely cool Lightning Trap ability. As long as this card does chip damage (so it's blocked by a normal block) the opponent doesn't get to draw a card and Grave gets to return this card to his hand. So both Grave's hand and the opponents hand will be growing at the same speed and Grave will be getting in 3 chip damage while also being safe from throws. It is a very flavorful card, it very much has the feel of a Ryu fireball spam.
Lightning Cloud is very match up specific. Against some characters (like the grapplers or Geiger) It is an amazing combat card. Against others it's only real use is to stick on the end of combos or to fuel the Mental Toughness ability.
That all sounds really good but Grave is not with out his Weaknesses, although since he is the all around fighter he still doesn't fall too far behind in one category. His biggest weakness is his throws. They are average speed and he has an average number of them but when you take into account he has two really good abilities on his throws it stretches them out.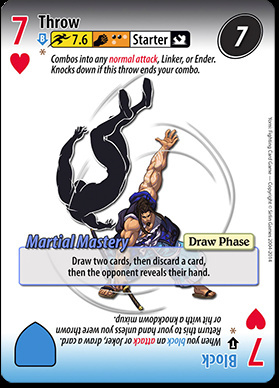 This is Grave's final ability which allows him to draw two cards then discard a card then look at the opponents hand!!! This can be such an amazing ability. It gets especially good when the opponent is on low hand. No one has greater Mastery of the Martial arts then Grave.
Grave will have to be careful how often he uses his abilities because he can very well run himself out of throws if he uses them too often and then the opponent can much more safely block and dodge.
If you want a character that has answers to the opponents options and don't mind having average normal attacks and having to more carefully manage your throws and abilities then you will want to check out Grave Stormborne the Wind Warrior.[/details]