Hey everyone, welcome to Card of the Week! The purpose of this series of threads is to prompt strategy discussion and answer any rules questions about specific cards. Feel free to share stories of how you've used the featured card in the past, speculations of how you might use it in the future, and any strong synergies or counters you may think of. And feel free to message me with any card requests for next week! Otherwise cards will be chosen randomly.
Previously on Card of the Week
---
This week's card is Firehouse: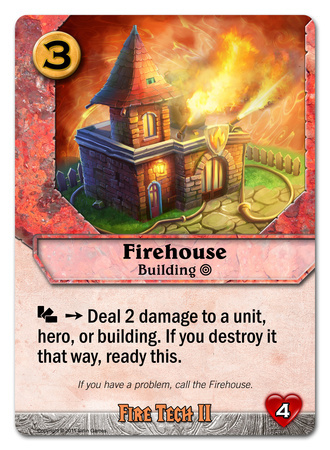 Firehouse is a 3-cost building with 4hp. It's kind of risky to play at the Tech II level, but in return it has quite the interesting ability. Yes, you really can take out infinity things with this - when Firehouse is readied by its own ability, you can then use the ability again, and so on. However, note that you cannot take out as many Illusions as you want - the "If you destroy it that way" clause is specifically referring to the damage dealt by Firehouse, and illusions die as soon as they're targeted, so the damage is never applied and thus Firehouse does not ready (that's okay, Fire has plenty of other ways to deal with Illusions).
At this point you may be thinking that Firehouse is primarily used for countering token based strategies, like a Skeleton army. While that's true, that's not where the card's usefulness ends. You see, Firehouse actually has another ability on it! Read it again, look closely, and you might just find it…
"Your units and heroes have +2 attack, and your spells and abilities do 2 extra damage."
Do you see it? This is because you can use Firehouse's ability at any point in your turn, like right after you've attacked with one of your units. So for example, attack a 4-hp unit with a 2-atk unit (like Nautical Dog), then use Firehouse's ability on the defending unit. It's like your attacker had 4 attack! And you get to use Firehouse again later on that turn if you want. Firehouse lets you line up very good trades every turn it stays up.
In-spec Synergies
Hotter Fire - this aptly named card will boost Firehouse's ability damage up to 3, giving you a lot more reach and flexibility. Careful though, now you've spent 6 gold on stuff that can't patrol!
In-color Synergies
Kidnapping, Bloodlust - if you like math, both of Drakk's spells will help you squeeze some exact-damage combos out of the Firehouse.
Out-of-color Synergies
???
Counters
Assimilate, Nature Reclaims, General's Hammer - lots of things out there that can take out buildings. If your opponent anticipates Firehouse, you may not get much use out of it.
Potent Basilisk, Mind-Parry Monk - Untargetable things will make you very sad. So will things with Resist, since paying for every use of Firehouse's ability can get pretty expensive.
Justice Juggernaut - some things are just too big to burn

How many problems can you solve with a little fire?