Welcome to Card of the Week! The purpose of this series of threads is to prompt strategy discussion and answer any rules questions about specific cards. Feel free to share stories of how you've used the featured card in the past, speculations of how you might use it in the future, and any strong synergies or counters you may think of. And feel free to message me with any card requests for next week! Otherwise cards will be chosen randomly.
Previously on Card of the Week
---
It's only a problem if you've got something to hide. This week's card is Eyes of the Chancellor: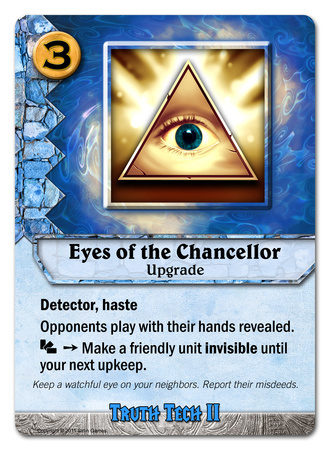 This is probably the meanest of all the upgrades. As a Detector, it will continuously reveal any and all opposing Stealth or Invisible things, forcing your opponent to play more "honestly". However, you are under no such restrictions, and can hide one secret from your opponent each turn. Additionally, knowing the contents of your opponent's hand at all times is very powerful. You can perfectly play around whatever they might have, or if you had a choice between destroying one of their tech bulidings or heroes, now you know exactly which one to go for.
In-spec Synergies
Spectral Tiger - Eyes of the Chancellor can make any illusion untargetable for a turn because it doesn't

, but Spectral Tiger really likes being Invisible because 5 atk is enough to break a tech building. You can even pull this off the turn you play Eyes of the Chancellor, because it has haste.
In-color Synergies
Injunction, Community Service - knowing exactly when these cards will hit, and how hard, is very strong.
Out-of-color Synergies
???
Counters
Nature Reclaims, Assimilate, Versatile Style - any of the standard Upgrade-destruction effects apply here. However, since you'll know when these are in your opponent's hand, you can time your Free Speech to protect Eyes of the Chancellor, or apply enough pressure with your other things to discourage them from spending the gold on their answer.
Surplus, Setsuki's Maxband, Hyperion, Garth's Midband - anything that draws cards will give your opponent some resilience against you perfectly playing around their hand.