Hey everyone! Welcome to Card of the Week. The purpose of this series of threads is to prompt strategy discussion and answer any rules questions about specific cards. Feel free to share stories of how you've used the featured card in the past, speculations of how you might use it in the future, and any strong synergies or counters you may think of. And feel free to message me with any card requests for next week! Otherwise cards will be chosen randomly.
This week's card is the mighty Rampaging Elephant: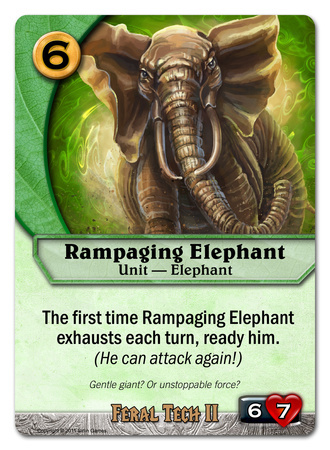 Rampaging Elephant is quite the beast, pardon the pun. He's a little pricey at 6 gold, but the 6/7 body is likely larger than anything your opponent will have in play. On offense he can take out two or even three things by himself, and on defense he's just a big solid dude.
In-spec synergies
Ferocity - For when you really want to go on a rampage. Taking out 2 things and still having a fully healthy Elephant afterwards is quite the devastating move.
In-color synergies
Dinosize - Attacking for 24 damage in a single turn seems pretty good, don't it? If only there were some way to give him Overpower too…
Spirit of the Panda - Not quite as much damage as above, but you get 2 gold back the turn you cast this since the Elephant can attack twice. Then heal a bit for the next turn and do it again.
Out-of-color synergies
???
Counters
Kidnapping - perhaps the most notable counter. No worse feeling than your own Elephant rampaging in the wrong direction!
Sacrifice the Weak, Hooded Executioner - against Black, make sure you've got some other weaker stuff around, or that Elephant is toast.
What can the Rampaging Elephant do for YOU?