I was inspired by @charnel_mouse's analysis of the recent Codex tournament, and with some very helpful pointers from him, ran a similar analysis on all of our historical Yomi matches. My goal was to compute estimates of matchup numbers, taking into account all games played between the characters, and the skills of the players playing them.
To that end, I modeled the results of the matches using log odds of victory based on the difference in player skill plus the advantage for the first player based on the matchup. The player skill was computed per-tournament (but considered constant within a tournament), and was allowed to vary by a learned parameter between tournaments.
First, the matchup chart: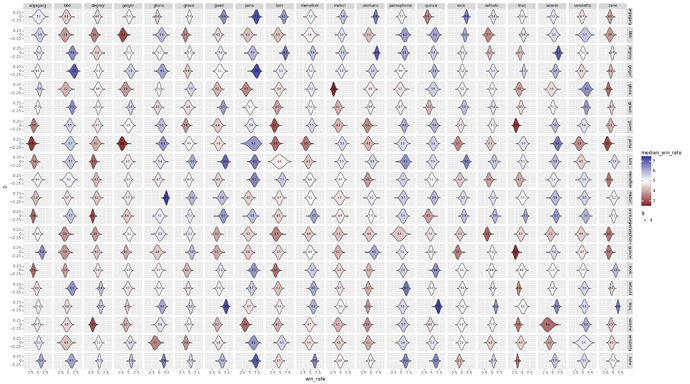 As usual, the rows are player 1, and the columns are player 2, so a box that is very blue favors the character labeled at the end of the row. Plots that are narrower indicate a higher confidence in the matchup number (due to either less variance in the matchup, more games played, or both).
For skills, I don't have a concise chart with everyone, but I'll put a few examples so that you can see that the model learned something about player skill.
First, me!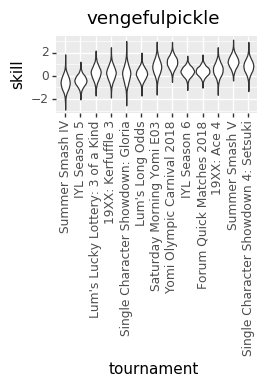 Then, the peoples champion, @mysticjuicer!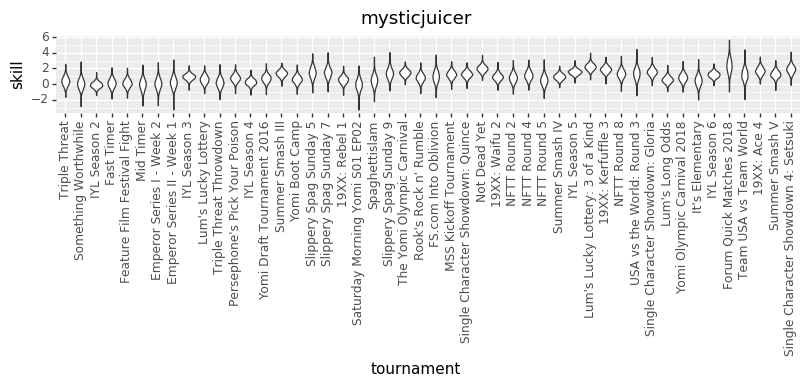 And finally, the storied career of the esteemed @cpat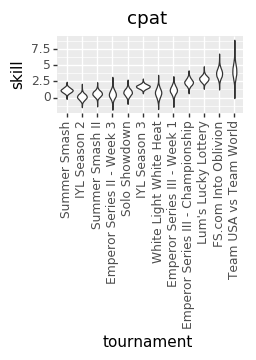 For reference on what those numbers mean, here's a chart that @charnel_mouse through together when explaining the math to me:
| Matchup | Difference in Log odds |
| --- | --- |
| 1-9 | -2.20 |
| 2-8 | -1.39 |
| 3-7 | -0.85 |
| 4-6 | -0.41 |
| 5-5 | 0.00 |
| 6-4 | 0.41 |
| 7-3 | 0.85 |
| 8-2 | 1.39 |
| 9-1 | 2.20 |
So when you see @cpat clocking in at ~3.5 in his later tournaments, you can see just how far ahead he is over your average bear/new Yomi player.