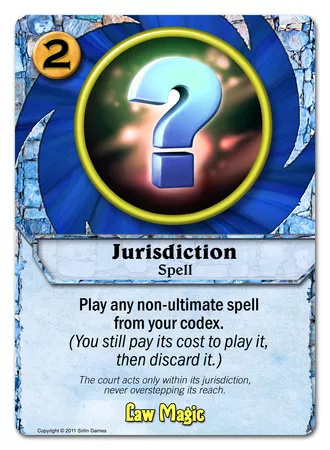 I don't have much insight on this card because I've been scared to use it and don't even know how to begin to use it effectively. I'm hijacking the card of the week to get some ideas going on Jurisdiction. In what situations are you using Jurisdiction? In what builds have you found it to be most effective? Against what builds have you found it to be most effective? It seems like the point of the card is to take the guess work out of spells that strongly counter one strategy at the cost of increased cost and deck bloat. Or just gives you vastly increased options on a turn you have this in hand. Also can be good as a surprise card when a particular hero is dead and the opponent thinks they don't have to fear their spells for that turn.
Maybe another way to effectively use it is if you're going super heavy on units so don't have much room for spells (perhaps going Truth?) so you just drop in a Jurisdiction in so you can cast any spell that is crucially needed.
In-Color Synergies
Lawful Search, Flagstone Spy, and Eyes of the Chancellor - The synergy in all these cards are the same. They allow you to cheaply see the opponents hand so you can take even more of the guess work out of which spell to grab. Flagstone Spy combos particularly well because in addition to giving you the hand info it can steal money which can defray the increased cost of playing spells through Jurisdiction. Additionally none of these cards require another hero to be in play to take advantage of the hand peek.
Out-of-Color Synergies
Martial Mastery - a much harder way to look at the opponents hand, because you need two heroes out, but still anther way to do it.
Other Synergies
Every non-channeling spell in existence?
Any thoughts on this spell?