Disclaimer: I have no actual clue about Codex nuances or balance yet, so this is very much a first draft by a newb - I expect there are all sorts of balance and mechanics problems. But hey, I had fun writing it, so mebee yinz will have fun reading and nitpicking it.
The intent is to have her function in the sort of "Control Deck" role she does in the other games - with a focus on theft and force destruction.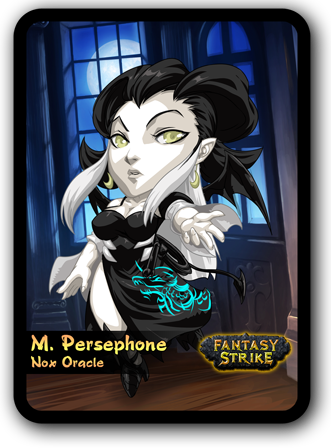 Persesphone: Nox Oracle
Color: Given the established lore for Fantasy Strike, Perse is a Neutral hero. I have given her a bunch of Legendaries and a couple Cute Animals, so she probably has the best synergy with White, but I also gave her a Soldier and a Tiger for Purple and Green synergies if you want to go there.
Hero Card:
$1-2 Startband: 1/3 Prophecy: ($1) Look at the top 3 cards of a player's deck. Put them back in any order.
$3-4 Midband: 2/4 Savor the Lash. Pay ($2), return a Dominance Spell from your discard to your hand
$5 Maxband: 3/5 Oracular Sight: Detector
---
Spells
---
Meddling: ($3) spell-buff (target) Until end of turn a Tech 0, Tech I or Tech II gains +1 ATK, Haste and Ephemeral.
Pleasure and Pain: ($2) spell-burn (target) deal 3 damage to an opposing unit or hero which has already taken damage. If this does not kill the target, your Dominance heals 1 damage.
Sadism: ($0) spell (target) Destroy a token unit. If you do, draw a card.
ULTIMATE: Mistress's Command ($4): Gain control of an opposing hero until end of turn. Until end of turn it gains haste. If it dies this turn, one of your heroes gains the bonus levels.
---
Tech I Cards
---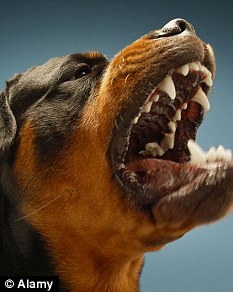 ($4) Fluffy: legendary cute animal unit
2/3
arrives: put a 3/2 legendary dog token named Scruffy into play
leaves: Sacrifice a dog token named Scruffy.
These immortal hounds are always together

($3) Living Lash: animated weapon unit
1/1
indestructible, readiness
Whenever living lash deals combat damage to a hero, disable it (Exhaust it and it doesn't ready during it's next ready step. Sideline it if it was patrolling)
The sting of the lash lingers
---
Tech II Cards
---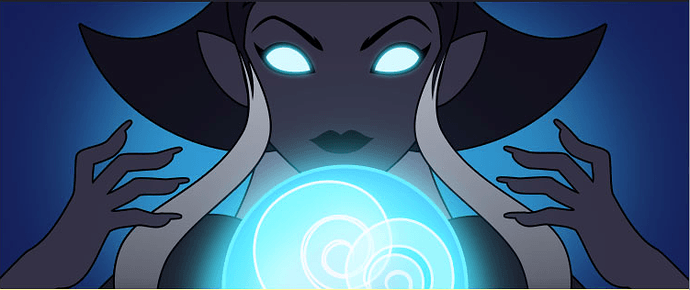 ($5)
Oracle's Dreamery:
Legendary Building
4

All your patrollers gain Resist 1, +1 Attack, + Armor, Dies: gain (1) and Dies: Draw a card.
Leaves: All your patrollers take 1 damage.
The Oracle's Forces deploy knowing where and when the enemy will attack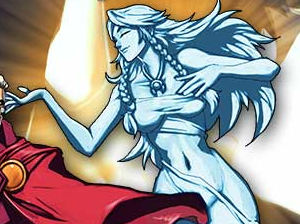 ($3) Ghost-Chan: Legendary Spirit Unit
2/3
Arrives: gain control of an opposing (target icon) Tech 0, I or II Legendary unit. That unit gains indestructible so long as Ghost-Chan remains in play.
The Spirit is willing, especially when the flesh is weak

($3)
Twisted Thorns of Fate:
plant unit
3/5
Arrives: (target) Ready an exhausted unit or Hero
Upkeep: Return Twisted Thorns of Fate to your hand
Fate is like a rosebush – some get thorns and others get flowers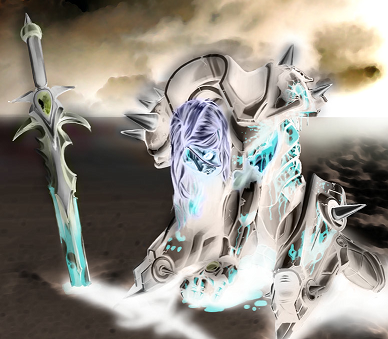 ($5) Doomed Knight: soldier unit
6/4
Upkeep: This takes 1 damage
This gets +1 Atk for each damage on it.
Dies: Destroy an Upgrade or Ongoing Spell.
Either the quest ends when the knight falls or the knight falls when the quest ends.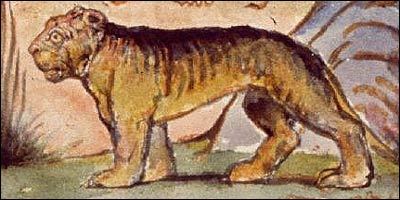 ($4:) Tyger Tyger: Burning Tiger Unit.
4/4 Stealth
Swift Strike when attacking
"What immortal hand or eye could frame thy fearful symmetry?"
---
Tech III Unit
---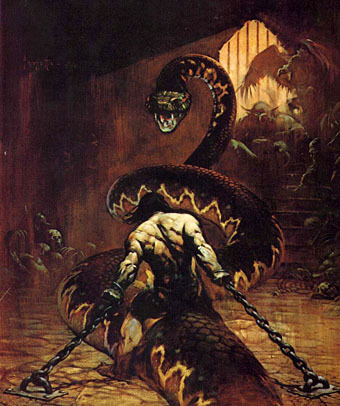 ($8) Great Python: Giant Snake Cute Animal Unit
6/6
Attacks: defender* loses all abilities.
Swift Strike,
$2: ready Great Python
The serpents of the earth see what the light of the sun cannot
{"Defender" here meaning "unit or hero which this attacks" - just like it does in the definition which was not actually put into the Codex rulebook }