Welcome to Card Highlights (formerly Card of the Week)! The purpose of this series is to prompt strategy discussion and answer any rules questions about specific cards. Feel free to share stories of how you've used the featured card in the past, speculations of how you might use it in the future, and any strong synergies or counters you may think of. And feel free to message me with any card requests for next time!
Previously on Card Highlights
---
Get ready, because you're about to be overtaken with an insatiable Bloodlust: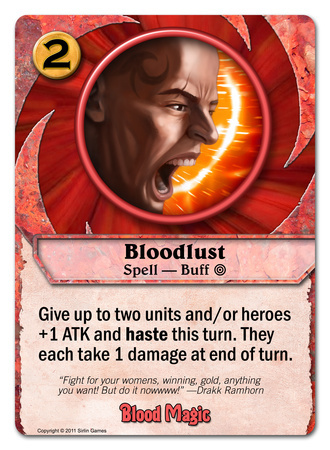 I underestimated this card when I first saw it. For 2g, you can give up to to units and/or heroes haste with a little drawback. It's a better Charge, basically. Seems like it fits into the Blood plan very well - play stuff, attack with it, go down on cards. However, there's a lot more ways to use this card.
It's not limited to targeting your own units, so you can pop up to two enemy Illusions very efficiently.
It's not limited to your own heroes, either! If there's an opposing hero with 1hp in the backline, then Bloodlust's drawback becomes your advantage instead.
Tech buildings have 5hp, but many Tech II cards have 4 ATK. That's sad. But with Bloodlust, you can play a Tech II unit and take out a tech building in the same turn! That's nice.
As for synergies, well, there are tons of things that become pretty crazy once they have Haste, so I'll just highlight what I think are some of the more interesting ones. Feel free to contribute more!
In-spec Synergies
Ogre Recruiter - Steal one of your opponent's units before they get a chance to react. I got a Centaur with Spirit of the Panda on it once…
Land Octopus - Land Octopus is already the greatest unit in the game, but what if it was even greater? For real though, since this unit can't patrol, you want to try and get value out of it the same turn you play it if possible.
In-color Synergies
Calypso Vystari - this card + Bloodlust lets you sideline a patroller the same turn you play it.
Molting Firebird - Probably the best Red card to hit with Bloodlust as it can fly right over opposing patrollers to destroy a tech building. And in that situation, it hits everything else for 1 too!
Out-of-color Synergies
Trojan Duck, Guargum, Eternal Sentinel, Lawbringer Gryphon - any of the Tech IIIs with Obliterate become absolutely absurd when given Haste. If you weren't winning before, you're definitely winning now.
Counters
Thieving Imp, Carrion Curse - you are going down on cards to combo Bloodlust, so if your opponent pressures your hand size, they can then build their board back up while you're too low on cards to draw the next combo.
Reputable Newsman - I name 2, no Bloodlust for you! (haha, hey, look at that. I'm a poet and I didn't…have knowledge of that fact)
Slow Time Generator - It's hard to pull off any combos when you don't have gold!