Welcome to Card of the Week! The purpose of this series is to prompt strategy discussion and answer any rules questions about specific cards. Feel free to share stories of how you've used the featured card in the past, speculations of how you might use it in the future, and any strong synergies or counters you may think of. And feel free to message me with any card requests for next week! Otherwise cards will be chosen randomly.
Previously on Card of the Week
---
This week's card is Hooded Executioner: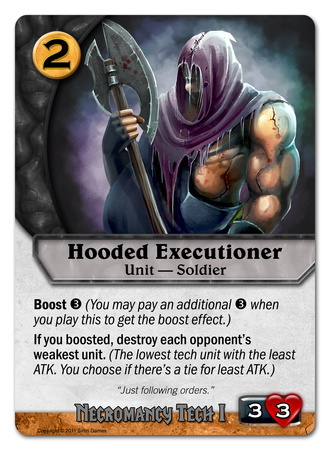 Early on in the game when you don't have much gold, Hooded Executioner isn't anything special - just a 3/3 for 2g. Late in the game though, he punishes opponents hard for investing in single large units. He can even take out Tech III units! This is one of the few Tech I cards that you are happy to play in the late game.
In-color Synergies
Sacrifice the Weak, Deteriorate - use these to clear out any other units hanging around so you can hit the one you want.
Out-of-color Synergies
???
Counters
Murkwood Allies, Bird's Nest, Hive - things that generates extra tokens will make it hard for you to snipe key targets.
---
Hooded Execution will follow his orders. Make sure you're the one giving them!