Check out the keyboard shortcuts. There are a lot.
@Kasumi you can post all that in "General".
Also fyi on the fighting game forums, there are even more subforums such as "hype" for fan art, cosplay, streams, videos, anything exciting. And "suggestions and feedback" for things like costume ideas.
So, I can no longer edit this post from 90 days ago, or one from Sept 28 (61 days ago) but I can still edit a post from Sept 30 (60 days ago), so it looks like there is a 60 day or 2 month limit on edits.
@cstick recommended I cross-post how to indent, but instead I'll just link to a great Markdown tutorial that explains how to do that and more. The front page of it is good for a quick reference, and the full tutorial has interactive exercises to let you experiment with how it works as you learn (though it took me a bit more than the promised 10 minutes).
It seems like it's possible to take a post in one thread and quote it in another, but could someone explain how to do that?
Highlight the text you want to quote.
Select the contextual 'quote reply' button that appears.
Copy the resulting post into the thread you'd like to post it in.
Ah. I was hoping for a more… elegant method, but brute force will work, I guess. Thanks!
You can start a draft post (using the highlight -> Quote reply method) and then navigate to the other thread. When you hit Reply there will be a pop-up asking if you want to reply in the original thread, or at your new location.
Great! I knew there had to be a better way. Thanks a lot!
guys, what the heck happened to the forums? i got here early this morning and was as usual, now the layout is completely different!
The forums look OK to me, I don't see any change.
The only thing different for me is a "last visit" indicator on the "Latest" timeline.
this is how it looks to me: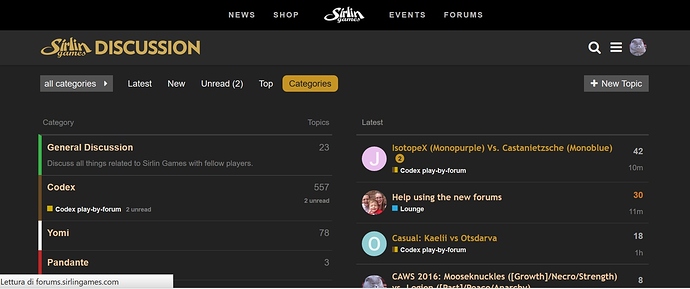 before there was only 1 column, not 2.
Also under each category were the 3 most recent posts, not the Latest column
I'd use that.


Maybe it's a setting somewhere?
idk, again, it was normal at 8 AM my time, i re logged at 10AM and bam!
I checked my preferences, and cannot find any option about it .
Ah, it seems to be a change exclusive to the "Categories" view.
I personally like it but I can see why it would bother you.
That explains why I didn't notice anything then - I never go to "categories"

The other thing I'm noticing is that when using a tablet, when I tap the post number, instead of the keyboard coming up so I can type in numbers for the post I want to go to, it simply brings up a quick-scroll/preview bar, which gets you to the bottom much faster.
Question about the reply feature: I notice sometimes that some posts have a link to the specific post that they're replying to (to the left of the date); how do I do that? Simply using the Reply button that's inside someone's post (rather than the yellow one at the bottom of the page) doesn't seem to do it for me.
it might require you to quote something from the post you're replying to. not sure.