@Zejety and Alextfish posted fantastic tracking spreadsheets specifically for use with playing Codex on the forum. I was inspired by Zejety's work in particular and designed my own. I have modified Zejety's sheet extensively, and am posting it here. It is a google spreadsheet, and clicking the link below will create a copy for your personal use.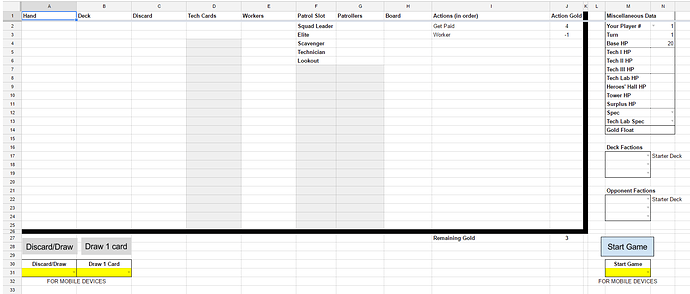 Simply enter the factions you are using and your player number, then hit start game, and your initial hand and deck will be populated randomly.
Some actions may require manual manipulation of the cards, but largely turns are automatically generated and the Post Template is compiled from the list of actions taken in a turn. The Post Template is specifically designed with this forum in mind.
Peek function and the Top of Deck spot is meant for use with Vir's Topband ability and Appel Stomp. Clicking peek will move a card to the top of the deck, and you can then swap a card from hand with the card in the top of deck slot for vir's abilities, or move appel stomp from hand to the top of the deck after drawing a card.
the Stash spot is for Bigby's topband ability. If you move a card from hand to Stash, your next hand will be generated correctly during the discard/draw step.
This is the tab where you find the automatically generated text to paste into the forum and post your turn.