There was another thread where @Leontes helped a few people out w/ that sort of thing.
Actually, I think I'll have my sister play instead of me but on my account. Results wise it would be as if I never showed and some new player joined instead.
Ethically, is there a problem with me giving advice over her shoulder?
I think that would fall under coaching.
Mysticjuicer is correct, that will go under coaching according to the rules.
Obvious in hindsight. I'll tide myself over with pointing fingers and laughing.
The bracket!
For MJ's records. I lost the first round, troq > BBB, Troq > Geiger, Mene < Geiger
I then beat leontes Rook > BBB, Rook > Geiger
Oh nooooooo!
I did't check the start time and I expect 2400 like last time!!!
damn me!


Awwww, you get to be here next time!
Results for today:
BBB < Troq
Geiger > Troq
Geiger > Menelker
Gloria > Onimaru
Gloria < Menelker PERFECT
Rook < Menelker
Zane > BBB
Zane < Zane
Vendetta > Zane
Gloria < DeGrey
Vendetta > DeGrey
Vendetta < DeGrey
To continue the report
Zane > Grave
Zane > Grave
Oni > Oni
Oni < Arg
gloria < Arg
GG's everyone!
Very proud of my sister today. She went 1-2 and apparently has no fear when throwing. I mostly didn't coach but I did give a quick tip or two during the BBB match up because she had no idea what Range was. I kept it to just explaining though.
I totally forgot that that was not you, which means I fucked up the seeding for the tournament. I was being distracted by Fluffiness and her sister playing two accounts and making sure that was correct in the bracket.
This had a bad effect for @mysticjuicer ending up playing against Fluffiness instead of FourLiberties in Round 3, which means he played Attilian in Losers round 4 instead of Losers round 5.
It also meant that @SouthpawHare played against Mysticjuicer instead of starting with a bye, playing against Corbeau instead of starting out in round 1 against Caralad.
I know both of you are competative players, lusting for points, and I have to apologize for disrupting the integrity of the tournament in this way. I hope that it is at least forgiveable

EDIT: If there are potential solutions to it, I am willing to hear it out!
Was trying to explain Yomi characters to a friend who was watching the newest Friday Night Fisticuffs video, so I logged on to look at the cards with no idea that there was a tournament scheduled. Had a great time though - I'll try to keep an eye out for single-afternoon events like this.
My day was 10* games of Grave:
2-1* Grave vs Midori (my replays disagree with my memory - I remember it being 2-1, replays only shows 2 games)
1-2 Grave vs Troq
1-0 Grave vs Vendetta
1-0 Grave vs Arg
0-2 Grave vs Zane
I'm not bothered. Mistakes happen.
Sorry for any inconvenience caused.
Looking forward to seeing the updated standings. Gotta get non-bridesmaid-place one of these times.

I've been trying to keep track of all of the upcoming events on the IYL Calendar, and also have been tweeting from @IntlYomiLeague.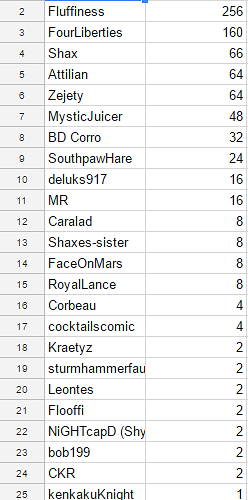 Last time I posted standings, I had a few errors, so I will double check these tomorrow to make sure. But these are the 01:22 on saturday night version of the standings hashtag-tired.
Good night everybody!

Thanks for a great show!