OK, here's the first pass at showing how the meta's changed. Lum's Lucky Lottery 2 was left off, since the decks were randomly picked from a small set chosen by the host. There's obviously a lot of variation between individual tournaments, but you can see some general trends. Most won't be a surprise to people who've been here for a while.
Looking first at the starters: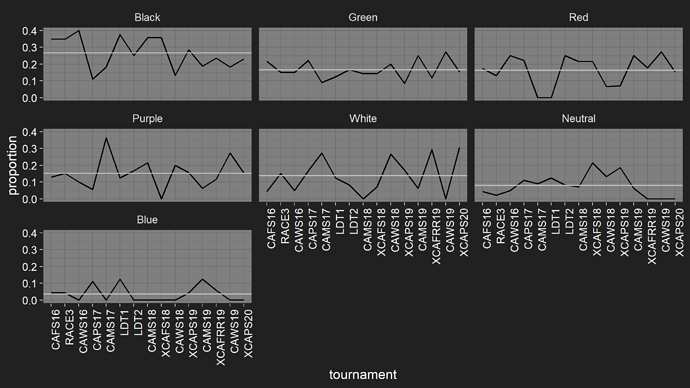 Specs: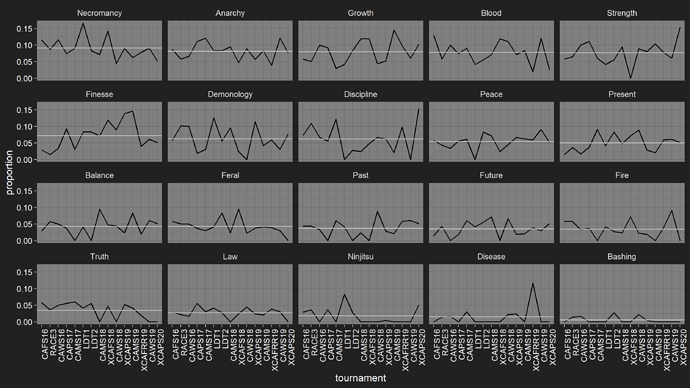 Disease was really common in XCAFRR19, but otherwise has been mostly ignored.
Demonology and Strength become less popular during XCAFS18, since they were part of the banned combinations. Necromancy just became more popular.
Truth has slowly disappeared recently.
Finesse has slowly gained in popularity over time as people found how well it works in a lot of decks.
Ninjitsu has a high proportion in LDT1, mostly because it was a small tournament with 8 players, and two people happened to pick it.
Finally, we look at decks, limited to decks that have been picked at least four times. This is just enough to include all the monocolour decks, and [Demonology]/Anarchy/Balance.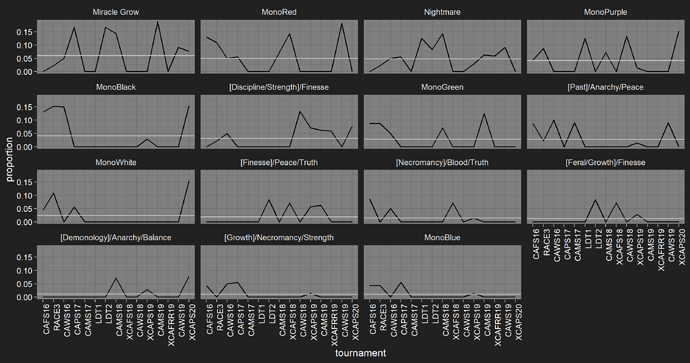 PPA's fallen from grace, compared to the recent rise of [Discipline/Strength]/Finesse.
[Necromancy]/Blood/Truth, i.e. the endless Crashbarrows deck, was far less commonly picked than I expected.
Nightmare has been consistently popular, except for the brief period after XCAFS18, when the bans prompted people to mix up the meta a bit.
And before anyone asks,
I did try some versions using the starter and specs' card colours. Turns out if you put all the specs' colours together at once the resulting colour palette is hideous.